What's curtain spray application?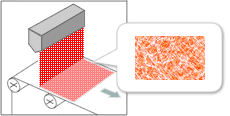 Patented technology
A device that performs spray application by making HMA into fibrous form.
The device forms a non-woven fabric-like surface uniformly by making use of the cohesive property (viscosity) of HMA to spray fine fibers, allowing the whole spray application on a wide area.
For other liquids (medicinal solutions, aroma chemicals, oil), the device microparticulates and atomizes them to perform application.
The device enables uniform application over wide surfaces without creating joints and unevenness, which is difficult for conventional devices.
Thin application is also possible.
Soft finish

Cost effective

Breathable

Environmental/recycling measures

Main specifications
Application width

5–2,000 mm

Application height

20–50 mm

Application amount

0.5g/m2 min.

*

Application viscosity

Max. 80,000 mPa・s

*

Usage temperature

Normal temperature to 200°C

Line speed

5–200m/min
There are limitations according to the materials used.
Variation
A variety of application patterns can be selected by changing pattern shims.
Continuous application           Fine fiber                   Application shim

Intermittent application         Rough fiber                Application shim

Stripe application                     Fine fiber                    Application shim

Application of curtain spray
Curtain spray technology was originally developed as a method for HMA.
The excellent technology is now used in various fields.
Horizontal application

Lamination

Powder mix, solidified

Base materials with corrugated surface

Adhesive
HMA → Thermal fusion type
One-component adhesive → Normal temperature liquid
Water-soluble adhesive → Normal temperature liquid
General liquid
Medicinal solutions
Water
Aroma chemicals
Soy sauce
Oil
Food
Curtain spray helps reduce the amount of liquid used, unlike conventional fan-shape spray which entails overspray.
Related page